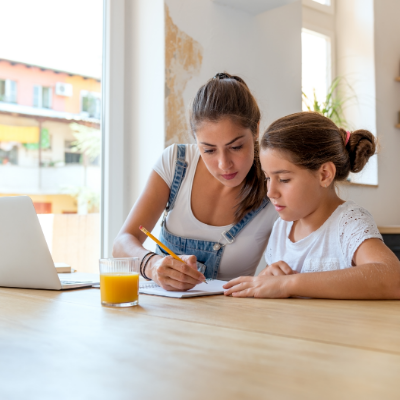 7 Ways to Save on Back-to-School Spending
8.31.2020
Frontwave Credit Union
Back to school may look a little different this year. But whether your child will be remote learning, returning to the classroom or some combination thereof, chances are, there's some shopping to do. From new clothes and shoes, to supplies and electronics, there can be a lot to buy. In fact, the average family is expected to spend over $700 this year on back-to-school shopping, according to the National Retail Federation.

Fortunately, with a little careful planning, this year's shopping doesn't have to break the bank. Check out these 7 ways to save on back-to-school spending:
1. Take an inventory.
Before you head out to load up your shopping cart, take an inventory of what you already have. Just because it's a new school year doesn't mean everything your child uses has to be new. Are there notebooks, folders, pencils and pens leftover from last year? What clothes and shoes still fit or can be handed down to a younger sibling? Reusing what you have is not only good for your wallet, it's also good for the environment.
2. Stick to the school's list.
Many schools and teachers provide a list of supplies their students need for the school year. Be sure to ask for a copy of this before you start shopping, then stick to it. There's no need to buy 4 notebooks if your child's teacher only suggests 1 three-ring binder, for example.
3. Make a budget.
Now that you know what you need, set yourself a budget. Maybe each child gets $40 for new sneakers and $10 for art supplies, for example. Making a plan for what you want to spend will give you (and your child) guidelines to work within when it comes time to go shopping.
4. Comparison shop.
Check sales flyers or go online to see who has the best prices on what you're looking for. Many retailers offer deals on certain items each week to lure shoppers in. But that doesn't mean you have to do all of your shopping there. You may be better off shopping multiple retailers to get the best deals on different items.
5. Layer on the savings.
While you're comparison shopping, look for coupons, rebates and rewards you may be able to take advantage of. For example, some clothing stores offer "bonus bucks" to be used at a later date. This could help you refresh your child's closet for less when he or she hits the inevitable mid-year growth spurt. Also check to see if a retailer you have a reward or loyalty card with offers price-matching. If so, shopping with them may add up to more savings, even if the item you're buying wasn't originally the best price you found.
6. Consider buying pre-owned.
If your child is starting school virtually this year, a new tablet or laptop may be in order. Consider getting a refurbished or pre-owned model from a reputable seller to save a bundle over buying new. The same goes for any furniture your child may need for remote learning, such as a desk and chair. Last but not least, you may want to consider shopping resale or consignment clothing shops for gently used school clothing. With how quickly a lot of kids outgrow their clothing, there are often some great pre-loved deals to be had.
7. Shop in phases.
It can be tempting to buy everything you need before school starts just to get it all done and out of the way. But if you buy just enough to get through the first few weeks of school, you may be able to take advantage of some serious savings. A lot of retailers mark down their back-to-school offerings soon after school starts, allowing you to load up on the remaining supplies you need for less.

Hang in there, parents. You got this!