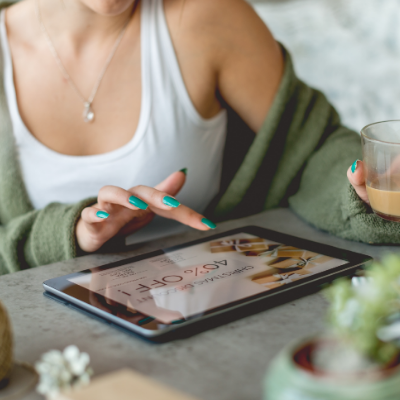 How to Avoid Online Shopping Scams
8.17.2020
Frontwave Credit Union
With everyone spending more time at home these days, there's a good chance you're doing more online shopping. And there's no denying that the Internet has made shopping easier and more convenient than ever. With a few clicks or taps, you can have anything from groceries, to books, to designer dresses delivered right to your door. At least, that's the goal.

The reality is there are lots of cybercriminals out there looking to make a quick buck by scamming unsuspecting shoppers. Online purchase scams were the most common type of scam reported to the Better Business Bureau in 2019, and resulted in tens of millions of dollars of losses, according the FBI.

Now we're not saying you should never buy anything online. But you should take steps to help protect yourself. Here are our top tips for shopping online wisely and protecting your hard-earned money:

1. Make sure you're buying from a reputable seller.
Whenever possible, buy from trusted retailers you've shopped with before. If you're buying from a new seller, search for their name with terms like "scam" or "fraud" and read online reviews. Also be sure to confirm their physical address and phone number in case you have questions or problems.
2. Read descriptions carefully.
Stories of people ordering what they thought were new or full-size products online only to receive used or toy versions are not all that uncommon. Don't rely solely on photos. Be sure to read carefully and look for clues like "mini" (could be very mini!) or "vintage" or "refurbished" (a.k.a. used). Also look for spelling and grammatical errors. Reputable retailers take great care to avoid these on their websites and listings.
3. Comparison shop.
Everyone wants a good deal. And shopping around can save you a few bucks. But if someone's offering an outrageously good deal, say $10 for an item other retailers are charging $100 for, be very wary. This can be red flag that the item is counterfeit — or may never be delivered at all.
4. Read the fine print.
What's the return policy? Who will pay the shipping costs? How quickly will the order ship? A reputable seller will have all of these policies clearly spelled out. If an item is "final sale" or there's no return policy listed, think twice before proceeding.
5. Double-check the URL.
A common tactic among online shopping scammers is to "spoof" the website of a well-known retailer in order to capture people's financial information. Look at the URL carefully to make sure there are no spelling errors (like Amason vs. Amazon) or unusual domains (such as .app instead of .com). Even if everything looks above board, also be sure to check the URL of the checkout page to see that it starts with "https://" or that there's a closed padlock next to it in the browser window. This means the page is secure and your payment information won't be visible to others when it's transmitted over the web.
6. Don't share more than you have to.
Online retailers only need your name, billing and shipping address, and payment. They don't need your banking or login information, birth date, social security number or any other personal information. Sellers who ask for too much information are likely to be scammers. Likewise, you shouldn't have to download anything to place an order. This could give a seller access to your computer and/or leave you vulnerable to viruses or malware.
7. Pay by credit card.
Never pay by wire transfer, money order or gift card. Sellers that demand these types of payments are often scammers. Unlike with credit cards, these payment methods offer little recourse to recover your money. Credit cards, on the other hand, are covered by the Fair Credit Billing Act, which allows you to dispute charges under certain circumstances and temporarily withhold payment while your credit card issuer investigates them. In case of fraud, your liability generally is limited to the first $50 in charges — and some credit card issuers guarantee that you won't be held responsible for any unauthorized charges at all.

For more tips on protecting yourself from fraud and keeping your Frontwave account secure, check out our Security Information page.