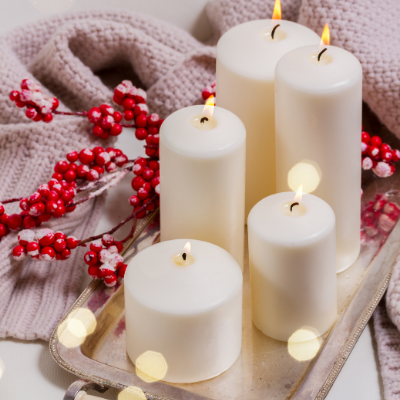 10 Tips for Safe Holiday Decorating
12.7.2020
Frontwave Credit Union
Festive decorations and flickering lights are hallmarks of the holiday season, but they also present risks that can quickly turn this festive time of year into a devastating one. According to the National Fire Protection Association (NFPA), Christmas trees start around 160 home fires each year, causing an average of $10 million in direct property damage annually. The holidays are also the most common time of year for candle fires.

As you prepare to deck the halls this holiday season, take a few minutes to learn some simple tips from the American Red Cross and NFPA for protecting your family and your home from holiday-related dangers.
1. Choose decorations that are flame resistant or flame retardant.

2. Check all holiday light cords to make sure they aren't frayed or broken.
Throw away any that have become damaged.
3. Don't string too many strands of lights together or overload extension cords.
Follow the instructions that come with the lights.
4. If decorating outside, make sure decorations are listed for outdoor use.
Fasten them securely using insulated hooks or clips (not nails) to avoid an electrocution or fire hazard.
5. If using a ladder to decorate, be sure to place it on a stable, sturdy surface.
Wear non-slip shoes with good traction.
6. Turn off all holiday lights when going to bed or leaving the house.
7. Use battery-operated candles whenever possible.
If you must light real candles, never leave them unattended. Keep them away from anything that could burn (like paper decorations and garlands), and out of reach from children and pets.
8. If you get a live Christmas tree, bend the needles up and down before purchasing it to make sure no needles fall off.
Water it regularly to keep it fresh. Keep all trees (live and artificial) away from heat sources like fireplaces and radiators.
9. Keep decorations away from windows and doors.
10. If you hang stockings on your fireplace mantel, don't light the fireplace.
While no one wants to think they're at risk, in addition to taking steps to decorate safely, now's a good time to double check your homeowners' or renters' insurance coverage to make sure you're fully protected in case a fire or other disaster should ever occur. If you rent, it's especially important to keep in mind that your landlord's insurance generally won't cover your belongings in case of disaster.

Need help finding the right coverage for you? Reach out to our insurance partners for a no-cost, no-obligation quote.