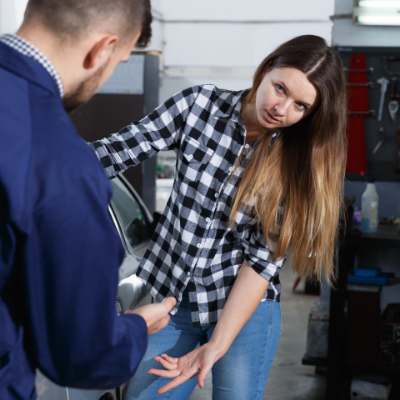 Avoiding Auto Sales and Financing Scams
10.29.2020
Frontwave Credit Union
You've heard about identity theft and phishing attacks, but those aren't the only financial scams to watch out for. The old saying "where there's a will, there's a way" applies to scammers, too. Wherever they see an opportunity, they'll find a way to exploit it. Over the last few years, private auto sales and auto loan modifications have become targets. If you're in the market for either, you should know about the common scams out there and how to avoid them before you shell out your hard-earned cash.
Online Auto Sales Scams
These days you can buy or sell pretty much anything online, including a car. But no matter which side of the deal you're on, it doesn't come without risks.

Say you're looking to sell your used car. You post an ad on an online classified board or popular auction site. The next day you get a call, text or email from a buyer offering to purchase the vehicle on the spot without ever even seeing or driving it. According to Pat Beaty, Sr. Fraud Investigator for Frontwave, this is a tipoff that a scam may be afoot.

Here's what often happens in these cases: the person offering to buy the car claims to be in another state and says they'll send you a cashier's check overnight in the mail. When it shows up, the check is often written for more than the purchase price. So the buyer will ask you to cash the check and send the extra money to a shipper, who will come to pick up the vehicle and transport it. Or they may tell you to Western Union or Money Gram the money back to them, or purchase gift cards for a third party — transactions that once sent, can't be recalled.

The next day, you get a call from your bank or credit union letting you know that the check you deposited and cashed is counterfeit and now your account is negative. "This is a very common scam," says Beaty. "We always remind our Members that if it sounds too good to be true, it's probably not legitimate."

Even if you know you're selling to a legitimate party, Beaty says you should protect yourself by immediately filling out a Notice of Transfer and Release of Liability Form. This will protect you if the person who buys your vehicle doesn't register it, is involved in an accident or commits a crime with it.

What if you're on the other side of the table? Caution is also warranted when purchasing a vehicle online. Beaty says you should always see the vehicle in person to make sure what you're buying has an engine, transmission, tires and brakes, and is in good working order.

You should also check the VIN (Vehicle Identification Number) on any vehicle you're thinking of buying. Make sure the VIN on the driver's door matches the VIN on the dash (driver's side front window), as well as the VIN listed on the vehicle registration and/or title.

"If the VIN appears to be damaged or tampered with, be wary — especially if it's the VIN located on the dashboard," says Beaty. "These are red flags that you may be purchasing a stolen or salvaged (junked) vehicle. There's also a scam called VIN switching, where scammers can have a fake plastic VIN made and slip it over the original VIN."
Auto Financing Scams
There are many ways to finance an auto purchase. The safest option is to go through a trusted bank or credit union, or a reputable dealer. Of course, even in these cases, you should always read the fine print and get a second opinion if anything seems too good to be true.

The initial financing of your vehicle isn't the only place you need to be careful. Say you've been out of work for a while and get behind on your car payment. You may run across companies that claim they can reduce your monthly loan or lease payment to help you avoid repossession. These companies might charge hundreds of dollars in fees up front, and some may "guarantee" that if they can't make a deal with your lender, they'll refund your money.

These promises may sound like the perfect way to get out from under. But according to the Federal Trade Commission, more often than not, it's just smooth talk by scam artists who are out to take your money and provide nothing in return. If you're having trouble making your payments, your best bet is to contact your lender directly to discuss your options as early as you can. They may be able to offer a temporary loan deferral or extend the length of your loan to make the payments more manageable, for example.

Want to learn more about protecting yourself from financial fraud? Check out one of our upcoming fraud prevention workshops.