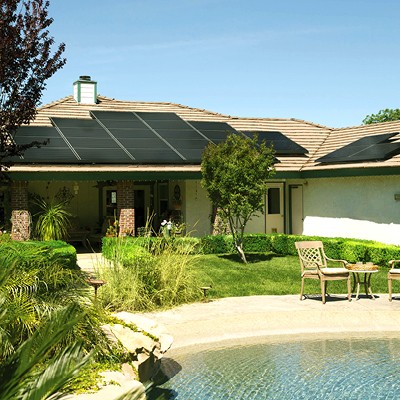 Thinking of Going Solar? Here's What You Should Know
10.12.2020
Frontwave Credit Union
Here in Southern California, we enjoy over 250 days of abundant sunshine every year. Not only do those rays feel good when we're out soaking up the sun, they can be harnessed to do good for our wallets and the environment, too. Solar power is more affordable, accessible and widespread than ever before. And with the promise of long-term savings and independence from the whims of the utility market, you can see why it seems pretty attractive to a lot of homeowners.

The only downside is that these systems can cost a pretty penny to install. Fortunately, you don't have to go it alone. Here's what you need to know about financing your eco-friendly energy dreams.
Purchase, Lease or PPA?
In general, there are 3 ways to get a solar energy system installed on your home: purchase it outright, lease the panels, or sign a PPA (power purchase agreement). Purchasing is pretty straight forward. You buy the panels and own them forever. You're responsible for the installation and maintenance. But you also reap all the benefits of all the energy the panels produce. Plus, while purchasing a solar energy system requires more up-front investment, there's a solar tax credit (also known as the investment tax credit or ITC) that allows you to deduct a percentage of the cost of installing a solar system from your federal taxes.*

So how do leases and PPAs work? Instead of buying the panels yourself, you agree to buy the energy they produce from a solar energy company, who will design and install the system for you. If you lease the system, you'll pay a fixed monthly payment, which is calculated using the estimated amount of electricity the system will produce. With a solar PPA, you agree to pay a set per-kilowatt (kWh) price for the energy generated by the system, which may vary from month-to-month.

Lease and PPA options often offer the allure of no money down and no maintenance. The company that owns the system typically offers a service program to cover any maintenance issues that arise during the lease term. But it's important to keep in mind that if you lease or sign a PPA, you are not considered the owner of the system, and are therefore not entitled to the federal tax credit mentioned above. Also, the company that owns the system can remove it at the end of the lease or PPA, leaving you back at square one.
Financing a Solar System Purchase
If you decide you want to purchase a solar energy system, a Frontwave solar loan can help you make it happen. Our solar loans allow you to borrow up to $75,000 and pay it off over a term of up to 20 years (240 months). If your solar investment is part of a larger energy efficiency upgrade, you can use the loan to finance other parts of your project, such as air and duct sealing, attic and wall insulation, hot water heater and piping insulation, energy-efficient heating and cooling, and more.

If you have equity in your home, a Frontwave home equity loan or line of credit can also be an option for financing a solar energy system – and any other upgrades you may want to make to your home.
Next Steps
Ready to get the ball rolling on your new solar system? Start by finding a licensed contractor to do the work. Check out the California Dept. of Consumer Affairs website to find a local solar contractor in your area, or to verify the one you're considering is licensed by the state. You can also give us a call at 800.736.4500 for a list of solar contractors we work with regularly.

Once you decide on a contractor, give us a call, visit us online or swing by a local branch to apply for financing and we'll take it from there!

*Consult your tax advisor.