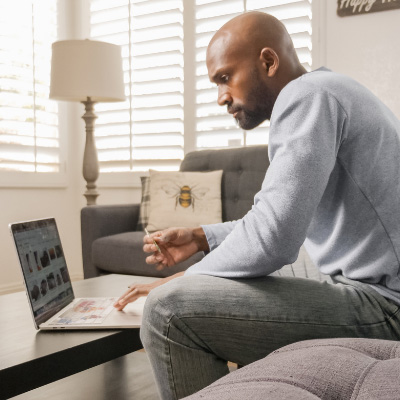 Protect Yourself from Holiday Shopping Scams
12.9.2021
Frontwave Credit Union
Shopping online this holiday season? Join the crowd! According to the National Retail Federation, consumers are expected to spend more than $215 billion dollars shopping online this holiday season. But just because it's nearly ubiquitous doesn't mean it's without risks. Wherever there's money, scammers are on the hunt for someone to defraud. And this year they're getting even more creative – going beyond "spoof" websites and misleading product descriptions.
Fortunately, there's a lot you can do to help protect yourself and your money from these new holiday shopping scams. Check out our tips below on avoiding 3 of the most common ones.
Social Media Shopping Scams
Holiday shopping deals have become a common appearance on social media sites. But some are simply too good to be true.
How it works: You see a deal for an amazing discount on a luxury item or hard-to-find gift, or a contest to win a coveted holiday item. The post may appear to come from a legitimate brand or even from a friend who's shared the link. When you click on the link, you're prompted to enter personal information (address, date of birth, credit card number, etc.) to buy the item or enter the contest. You may receive a knockoff item worth much less than the one you thought you were buying – or never receive anything at all. Meanwhile, scammers can use your personal information to commit financial fraud.
How to protect yourself: Avoid shopping via social media posts. If you want to take advantage of what seems like a great deal, seek it out by visiting the brand or retailer directly instead. If the deal isn't listed on their website, it's probably too good to be true.
"Smishing" scams
These are fake shipment tracking scams. You're probably used to retailers sending emails or text messages to let you know when an order ships. Scammers are counting on the fact that you won't be suspicious of an extra message or two this time of year.
How it works: You get an email or text that says it's from a delivery company like UPS, FedEx or the U.S. Postal Service. The message includes a link that takes you to a website where you're asked to "register" to receive tracking info by giving personal information, such as your Social Security number, date of birth, credit or debit card numbers, or other sensitive information. The scammers can then use this information to make fraudulent charges on your behalf or even steal your identity.
How to protect yourself: Take a close look at delivery notification emails or texts before you click on any links or provide any personal information. Most reputable delivery companies, including UPS, FedEx and the U.S. Postal Service, don't require you to register simply to see tracking information. If anything seems odd about an email or text you receive, reach out directly to the retailer you ordered from and ask them for tracking information.
Charity scams
For many Americans, the season of giving also includes making charitable donations. Unfortunately, scammers view the giving spirit of the holiday season as an opportunity to take advantage unwitting victims.
How it works: According to the Federal Trade Commission (FTC), scammers often make bogus phone calls spoofing legitimate charities' phone numbers. They may even create fake charities in an attempt to try to steal money or personal information. Sometimes their appeals include added enticements, such as end-of-year tax write-offs.
How to protect yourself: Be sure to research any charitable organization you're considering donating to before giving. Reliable resources that offer reports and ratings on charities and how they spend their money include Charity Navigator, CharityWatch and GuideStar. The IRS's Tax Exempt Organization Search can tell you if your donation would be tax deductible. Also, don't donate by clicking a link in an email or writing a check to someone who comes knocking at your door. If you're interested in contributing to a legitimate organization, visit their official website directly to find out how to donate.
Want more tips on protecting yourself from fraud?
Check out our entire Fraud Watch series and visit our Security Information page to learn more about keeping your Frontwave account secure.