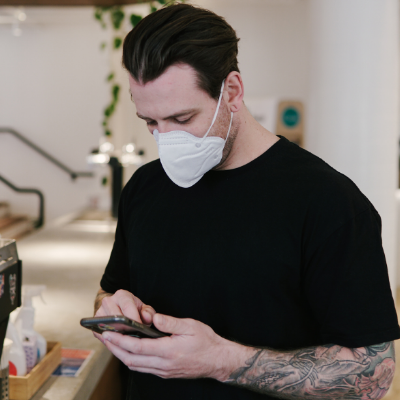 Beware the Latest COVID-19 Scams
2.4.2021
Frontwave Credit Union
Since the coronavirus (COVID-19) pandemic began, there have scammers and con artists looking to take advantage of people's fear for their own personal gain. With the recent second round of stimulus (economic impact) payments and roll-out of the COVID-19 vaccine, there's been another uptick in predators looking to profit off this once-in-a-lifetime global emergency.
Here's a look at 3 of the most common COVID-19 scams to be aware of today and tips for protecting yourself:
Economic Impact Payments
Scam: Phishing emails, texts or calls that ask you to share personal information or click on a link to get your latest economic impact payment (EIP) or activate your EIP card.
How to Protect Yourself: Keep in mind that the government will never call, text, email, or ask you to click on a link to activate your EIP card or get your money. Don't respond to emails or texts or click on links from sources you don't know, or provide personal or financial information to anyone over the phone unless you've contact them first. If you have questions about the second round of stimulus payments, check out the FAQs on the IRS website at www.irs.gov/coronavirus/second-eip-faqs.
Remember that Frontwave will never email, call, or text our members and ask for personal information such as online banking credentials, your card number, CVV or social security number, either. We will also never send you a text or email with a code you need to verify. If you're unsure about whether an email, phone call or text message is actually from Frontwave, contact us directly by calling 800.736.4500 (local/International: 760.631.8700)
COVID-19 Vaccine
Scam: Sellers offering to sign you up for or get you early access to the COVID-19 vaccine for a fee.
How to Protect Yourself: Ignore these offers. You can't buy the COVID-19 vaccine anywhere. It's only available at federal- and state-approved locations. And it's free to sign up for an appointment, once you're eligible for the vaccine (this varies by state). For the most accurate and trusted information about the COVID-19 vaccine, check with your state or local health department.
You can also talk with your health care provider or pharmacist. Just be careful with texts and emails. Scammers may try to "spoof" your health care provider or pharmacist's info to get you to click on links that appear to be about the vaccine — but are actually intended to gather personal information or infect your device with malware.
Contact Tracing
Scam: Someone claiming to be a contact tracer calls you saying you may have tested positive for or been exposed to COVID-19, and requests valuable personal or financial information.
How to Protect Yourself: Never provide payment, financial information, your social security number or immigration status to someone claiming to be a contact tracer. Legitimate contact tracers may call, email or text you and ask for certain information, but this is limited to your name and address, any COVID-19 symptoms, and the names of places and people you have visited recently. Also, real tracers won't send texts or emails that ask you to click or download anything.
Not sure whether you're dealing with a real or fake contact tracer? Check with your state or local health department to see if they have a way to make sure the person contacting you is legitimate. Otherwise, hang up or don't respond to, click on, or download anything that may be in an email or text.
Stay Informed
The COVID-19 pandemic is an ever-evolving situation. This means new scams may pop up at any time. To stay aware of what to watch for and how to protect yourself, visit www.ftc.gov/coronavirus/scams-consumer-advice. You can also check out our security tips for protecting your Frontwave account 24/7 here.