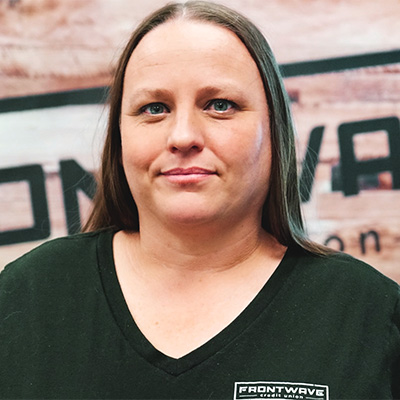 Meet Lindsy Cardinell, Frontwave Loan Servicing Manager
5.27.2021
Frontwave Credit Union
At the heart of Frontwave Credit Union are our dedicated employees, who we call Dream Makers. This month, we get to know Loan Servicing Manager Lindsy Cardinell, who has worn a number of hats during her 9-year tenure with Frontwave. We sat down with Lindsy to learn more about her career journey, and what she thinks sets Frontwave apart from other financial institutions.
Can you tell us a little bit about your professional background?
Before coming to Frontwave I worked in the retail and restaurant industries. I also did a lot of volunteering with the Marine Corps. I actually taught classes on financial literacy, so working at a financial institution seemed like it may be a good fit. I have worked in banking for 9 years now, and all 9 of them have been with Frontwave.
What has been your career journey here at Frontwave?
I started as a teller in Twentynine Palms in 2012, and worked my way up to a Branch Service Specialist. When my husband received orders to Camp Pendleton in 2015, I had the opportunity to transfer to our loan team in the Member Solution Center. From there, I was promoted to Team Lead, and later became the Branch Supervisor for the SOI Branch when it opened in July of 2017. In January 2018, I was promoted to Branch Manager, and now I'm in my new home as Loan Servicing Manager, which I just started in January of this year.
Can you describe the role of the Loan Servicing department here at Frontwave?
My department is responsible for many different tasks. Pretty much anything that has to do with a loan after funding comes to us. We assist Members by making any adjustments, answering questions, and servicing their loans.
Is there anything you think Members should know about getting or managing a loan with Frontwave?
We are here to help! We have a variety of different loan products to fit our Members' needs and lifestyles. Whether you are just starting out or an old pro when it comes to loans, we've got you covered.
What do you find most satisfying about your job?
Definitely helping people! We have the best Members, and it is so rewarding being able to help them out.
What do you think sets Frontwave apart from other banks and credit unions?
One of the main reasons I wanted to work for Frontwave was because I was already a Member and had such good experiences even when not living near a branch. I think what really sets us apart is our service. We don't see our Members as numbers. They are real people with big dreams. We want to help make those dreams come true. Frontwave employees are one big team with the goal of doing all we can for our Members.
Now on the lighter side, what do you like to do when you're not making financial dreams come true?
I spend time with my family and friends. My daughter is graduating this year, so I try to spend as much time with her as possible. We love going camping and traveling. When it comes to just me time, I use my pottery wheel or do other crafty projects.
Interested in joining the Frontwave crew?
If you're looking for a career where you can make a real impact — and have lots of opportunities for growth like Lindsy — we want to hear from you! Check out our Frontwave careers page for available openings.