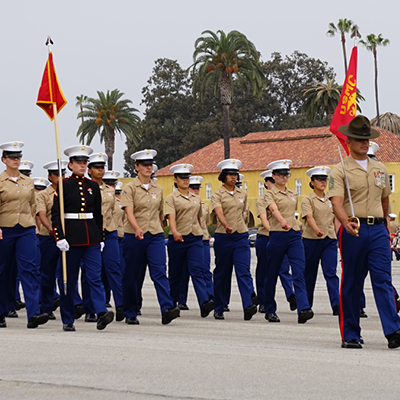 Frontwave Celebrates First Female Marine Graduates from MCRD San Diego
5.6.2021
Frontwave Credit Union
Thursday, May 6, 2021 was a historic moment as the first-ever platoon of female Marines graduated from Marine Corps Recruit Depot (MCRD) San Diego — and joined the Frontwave family. The new graduates were part of the first integrated company at MCRD San Diego in the history of the Marine Corps.
For the past 25 years, Frontwave Credit Union has served the financial needs of all recruits at MCRD San Diego, managing their direct deposit and providing financial education throughout their training. We are proud to welcome the first platoon of female Marines to the Frontwave ranks — and congratulate them on their accomplishments.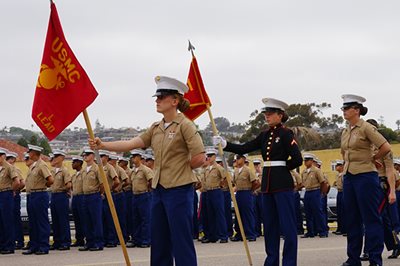 Platoon 3241 lead Lima Company onto the MCRD San Diego graduation parade deck on May 6, 2021.
As part of Lima Company, 3rd Recruit Training Battalion, these 53 new Marines from Platoon 3241 trained alongside 344 male counterparts for 13 grueling weeks, being pushed to their physical and mental limits. This included surviving The Crucible — an infamous 54-hour, 45-mile march that pits teams of recruits against a barrage of day and night events requiring them to work together to solve problems, overcome obstacles, and help each other along the way. Upon completion of The Crucible, the recruits were given their Eagle, Globe and Anchor, and officially received the title of Marine.<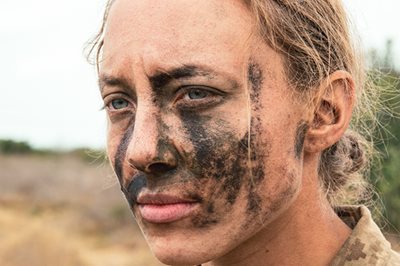 U.S. Marine Corps Rct. Miranda Femenella with Lima Company, 3rd Recruit Training Battalion, waits in line to take part in pugil sticks during the Crucible at Marine Corps Base Camp Pendleton, California, on April 21, 2021. Lima Company is the first company aboard Marine Corps Recruit Depot San Diego to train integrated with females. During the Crucible, each group of recruits were integrated with both males and females from the entire series. Femenella was recruited out of Recruiting Station San Francisco. (U.S. Marine Corps photo by Sgt. Sarah Ralph)
Congratulations to all Lima Company graduates & welcome to Frontwave!
We wish you fair winds and following seas, and look forward to serving you as you continue your Marine Corps journey.

New Marines Yeva Dzoban and Payton Anic celebrate their graduation on May 6, 2021.
The appearance of U.S. Department of Defense (DoD) visual information does not imply or constitute DoD endorsement.