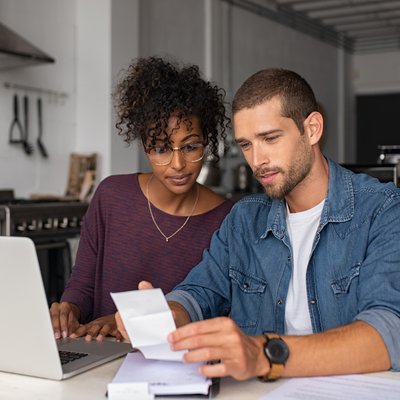 3 Tips to Make Your Money Work for You During Times of Inflation
12.28.2022
Frontwave Credit Union
Inflation reached a 40-year high last June, and while it brought uncertainty in market trends, one thing we know for sure is our purchasing power has diminished. In comparison to 2021, the average American household is spending over $400 more each month just to cover the basics. We're all seeing and feeling the impacts of inflation with near record-high gas prices, soaring housing costs, and pricier grocery and utility bills.

While you can't stop inflation, the good news is, you can take steps to help offset its impacts.
Reevaluate Your Budget
A good first step to mitigating the impacts of inflation is to reassess your budget. Budgets are the cornerstone of everyone's financial plan and help identify opportunities to stretch your dollar a little further. Wondering how to cut expenses while maintaining a good quality of life? Start by making small adjustments to make your budget work for you.

As you reassess and reallocate money to where you need it most, you may need to make some lifestyle changes to weather the storm. For example, you may need to meal prep, make coffee at home, buy in bulk, reduce cable and subscription services, shop around for auto insurance, put off upgrading your cell phone, or do grocery pickup instead of delivery.
Move Savings to Saver or Share Certificates
If cutting spending isn't doing enough to help your bottom line, you can give your savings a boost with options that earn interest or dividends over time. Two great options here at Frontwave are our Share Certificates and Saver Certificates.

With a Share Certificate, also known as a certificate of deposit or CD, you can get a higher dividend rate than a typical savings account in exchange for leaving the money in your account for a set period of time. You can open a Share Certificate at Frontwave with as little as $1,000, and choose from flexible terms ranging from 6 months to 5 years. Whether you go with long-term or short-term certificates, your money will earn guaranteed dividends to help grow your savings.

Don't have $1,000 or more to invest all at once? Saver Certificates can be a great alternative to consider. These are similar to Share Certificates, where you earn a higher rate by keeping your money in the account for a set period of time. The key difference is that you can open a Saver Certificate with as little as $100 and then add money over time. At Frontwave, we offer Saver Certificates with special rates for military members.

While you might not see the earnings you would from stocks and bonds in the long-run, Share Certificates and Saver Certificates aren't impacted by dips and swings in the market, making them more stable.
Diversify Investment Portfolio
Just as inflation diminishes your purchasing power, if you have an IRA, brokerage account, 401(k) or other retirement account, it also diminishes your investment portfolio's strength. While no one has a crystal ball to predict how high inflation could get or where we might see some volatility in the stock market, it's a good time to reevaluate your portfolio and consider greater diversification.

Having a diversified investment portfolio isn't just a smart long-term investment strategy. It will also help you maintain some balance during times of market volatility. As you consider where to invest, it's best to align your investments with your own risk tolerance. By strategically diversifying your portfolio, you may be able to help limit your exposure to risk or even outperform inflation.*

If you want help assessing your finances, you can always make an appointment for a free financial checkup. Whatever your financial and savings goals are, we got you!

* The information included in this article is for educational purposes and is not intended to be taken as investment advice. Diversification and asset allocation do not ensure a profit or guarantee against loss. Investing involves risk, including risk of loss. Investments are not insured, and past performance is no guarantee of future results. Frontwave is not providing recommendation or endorsement of any specific investment or strategy.