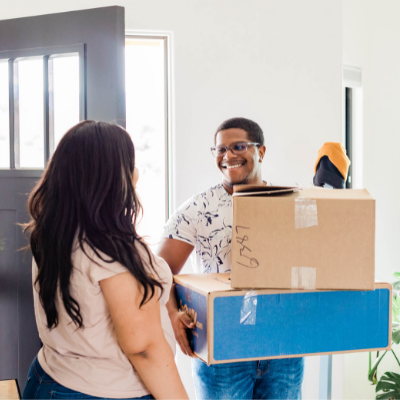 How to Find Your Perfect Home in a Competitive Market
1.19.2022
Frontwave Credit Union
After a drop in sales in early 2020 due to the coronavirus pandemic, the real estate market in California has rebounded back to thriving, competitive market. According to the California Association of Realtors, by the end of 2021, home sales recorded the strongest pace since 2009, exceeding 2020's level by 7.9 percent. Home prices have also been on the rise, with 2021 bringing double digit increases in average sales prices in San Diego, Riverside and San Bernardino Counties.
So how can the average Southern California home buyer navigate this competitive market to find and buy the home of their dreams? Here are 6 tips to get you on the right path to your perfect home and the perfect mortgage loan to go with it:
1. Determine how much you can afford.
The home price you can afford depends on four key factors — how much you can pay monthly, how much you can pay up front in a down payment (Frontwave offers no down payment mortgage options), the loan type (30-year fixed, 15-year adjustable, etc.), and the interest rate. Our mortgage loan calculator can help you run the numbers based on different scenarios.

Keep in mind, the general rule of thumb when getting approved for a mortgage is that your debt-to-income ratio should be no more than 43%. Debt-to-income equals all of your debts, including auto loans, credit card payments, your proposed mortgage payment and property taxes, etc., added up and divided by your total income.
2. Get pre-approved.
What you think you can afford and what a credit union or bank is willing to lend you may not match up, especially if you have poor credit or unstable income. To make sure you're on the right track, get a pre-approval from your mortgage lender before you begin your home search. Talk to them about the different mortgage loan options and what's best for your situation.
Getting pre-approved will help you narrow your search by confirming your target price range. It can also give you a leg up when it comes time to make an offer on a home, as sellers may be more likely to choose an offer backed by pre-approval over one without it.
3. Make a list of what you want in a home.
Now that you know how much home you can afford, make a list of features you want in a home. This can include features of the house itself, such as number of bedrooms and bathrooms, as well as features of the neighborhood, such as proximity to your workplace and good schools.
Do a little research to see how your wants match up to reality. Based on what you've been pre-approved for, can you afford that gorgeous 4 bedroom house you've been eyeing 10 minutes from work? If not, reconsider which features on your list are must-haves and which are nice-to-haves. For example, you may be able to afford just as a nice a home if you can cut out a bedroom or two, or choose a neighborhood a little further from work.
4. Find the right real estate agent
A real estate agent can help guide you through the different home options on the market, as well as the legal steps and negotiations involved in buying a home. While most sellers will have a real estate agent handling the listing of their home, as a buyer, it's often a good idea to work with your own agent who will have your best interests in mind.
But with so many real estate agents out there, how do you find the one that's right for you? If you have friends or coworkers who have purchased a home recently, consider asking them for their recommendations. Or look at reviews online. Then choose several agents to "interview." Talk with them about your goals for homeownership and ask about their knowledge and experience with the types of homes you want to buy. Your goal is to find someone who understand your needs and preferences, and who you feel comfortable working closely with.
5. Make a strong offer.
When you find a home you love, work with your real estate agent to make a competitive offer. Many homes in San Bernardino, Riverside and San Diego Counties are selling quickly and at or above asking price these days, so going in with a strong offer from the start can improve your chances of having it accepted before another buyer swoops in.
6. Get an appraisal and inspection.
Once your offer has been accepted, be sure to get both an appraisal and a home inspection. An appraisal is usually required by your mortgage lender, but an inspection may be optional. Either way, both are worth your time, effort and money. That's because they can help ensure the home you've agreed to purchase is worth what you've offered and that there are no surprises (or big repairs) hiding behind the walls.
If an appraisal comes back lower than what you've offered, that can be a chance to renegotiate. The same goes if an inspection finds problems with the home. You may be able to get the buyers to make the repairs before you close on the sale, or to lower the price so you can afford to make the repairs yourself afterward.
Ready to get the ball rolling?
Learn more about the home buying process by attending one of our upcoming Home Buying workshops, or giving one of our friendly Home Loan Consultants a call at 760.631.8717. If you've already done your homework and are ready to apply for a mortgage, click here to get started.

Want to learn more about home loans at Frontwave Credit Union? Give us a buzz or visit us one of our 14 branches.