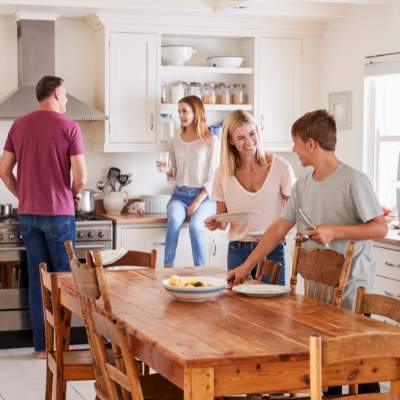 Is now the time to refinance your home equity loan?
3.22.2022
Frontwave Credit Union
Your home is full of memories from the past and dreams for the future. It's a place where you entertain friends and family, raise a child, celebrate birthdays and holidays, and watch your grandchildren grow-up. A home is so much more than just a place. It can also be an important resource to make your financial dreams come true. If you've already tapped into the equity in your home with a home equity loan or home equity line of credit (HELOC), it's important to occasionally review your loan to see whether it's the right time to refinance.

There's a lot to consider:
Do you have the best possible interest rate?
Do you have plans for future home improvement projects with large expenses?
Do you have high-interest rate debt that you need to pay down?
If any of these sound familiar, now might be the right time to refinance your home equity loan or HELOC to protect your investment and home.
Why should you refinance a home equity loan?
You may want to refinance to:
Lower your monthly payment – You can reduce your monthly payments by refinancing to a lower interest rate or by taking a longer term (say, going from a 5-year loan to a 10-year loan). Your credit may have improved since you opened your current loan allowing you to get a better rate with lower monthly payments.
Switch between adjustable and fixed-rate loans – Home equity loans and HELOCs can have either adjustable rates or fixed rates. Typically, an adjustable rate has a lower rate to start, but can increase with the market over time. In a rising rate market, like we're in now, you may want to consider refinancing an adjustable-rate HELOC for a fixed-rate home equity loan to save on interest in the long-term.
Tap into more equity – Home values have significantly increased over the years, particularly in Southern California. You likely have more borrowing power now than you did when you took out your original home equity loan. This additional equity can be used for many of life's big expenses, from funding home projects to paying for college. You can even consolidate and pay down high-interest rate credit card debt with a lower rate home equity loan, saving you money over time.
What are the risks of refinancing a home equity loan?
Anytime you borrow money, there are risks. Let's cover the risks of a home equity loan:
With a home equity loan, you're using your home as collateral, so you risk losing your home if you can't make the monthly payments for the new loan. Carefully review your finances and the estimated monthly payments to ensure you can afford to refinance.
If your home value drops, you could have a hard time selling your house for the amount you owe on the mortgage and home equity loan combined.
If your credit has taken a hit since you originally financed your home equity loan, you may not qualify for the rate and terms you're hoping for.
At the end of the day, there many reasons to refinance a home equity loan, including lowering your monthly payment, switching to a fixed rate loan or even tapping into more equity. Whatever the case may be, it's best to talk to a professional who can help guide you based on your personal circumstances. If you have questions or want to learn how Frontwave Credit Union can help you, feel free to give our friendly Home Loan Consultants a buzz at 760.631.8717.
Ready to get the ball rolling on refinancing your home equity loan?
You can check our current rates, apply online, visit one of our 14 branches or give us a buzz at 760.631.8717.