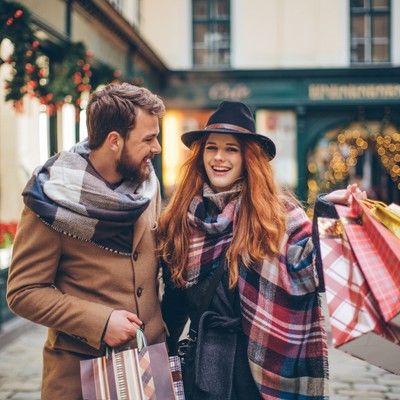 10 Tips for Smart Spending on Black Friday and Cyber Monday
11.15.2022
Frontwave Credit Union
The holiday season is fast approaching and with that comes the biggest shopping days of the year, Black Friday and Cyber Monday. These prime shopping days go hand-in-hand with spending. But if you're smart about how you spend, you can get that perfect gift for everyone on your shopping list without breaking the bank.

Whether you wait all year to take advantage of the best deals in stores or steer clear of the crowds and do your shopping online, these 10 tips can help you save on your holiday shopping and avoid overspending.
1. Make a budget and stick to it.
While this may sound like a no-brainer, overspending is a big concern for many shoppers. It's easy to get caught up in the hype of impulse purchases. That's why it's important to set a budget for your holiday shopping and, if you can afford it, a little something special for yourself, too. Knowing your financial limits will help you avoid spending more than you can afford.
2. Just like Santa, you gotta have a list.
Write down everyone you plan to buy for this year. Then compare that list to your holiday shopping budget. Making a list and checking it twice before you hit the stores will help you evaluate what you can actually afford to spend on each person. If possible, identify specific items you plan to buy for each person to ensure you stick to your budget and don't get sidetracked with deals that seem too good to pass up.
3. Sign up for price alerts.
There are many websites, apps, and browser extensions to help you track price fluctuations and give you an advantage as you plan your holiday shopping. Tracking prices leading up to Black Friday and Cyber Monday will also help you judge how good the deals really are.
4. Start shopping early.
You don't have to wait until Black Friday or Cyber Monday to find great deals. Holiday shopping sales have already begun! This year, experts are predicting inflation will leave many big-box stores with more inventory of everyday items than expected. To make room for holiday items, these stores will likely host sale events before the holiday shopping season officially begins.

If you do get some (or all) of your holiday shopping done early and an item you buy is offered for a deeper discount later on, don't worry. Just hang on to your receipts and keep an eye on sales throughout the season. Many retailers offer generous return policies and price adjustments.
5. Use a card that earns rewards.
Using a
credit card
that offers cash back or other rewards can help you maximize each purchase and rack up rewards to spend well into the new year. You can also consider redeeming some of your existing rewards for cash back, travel, or gift cards to help offset holiday expenses and stretch your dollar further this season.
6. Use online price comparison tools.
During the holiday shopping season, online prices change often. That's why it's important to shop around so you know you're getting the best deal. Using a price comparison tool like Google Shopping, PriceGrabber, and Shopzilla allows you to compare prices at various locations without having to drive all over town. Taking advantage of even small discounts can really add up.
7. Use loyalty programs.
Many retailers have loyalty programs that offer exclusive sales, coupons, and promotions to their members. Some even offer special Black Friday and Cyber Monday deals. Keep in mind, these special promos may only be available for a short time, often offering the steepest discounts to early morning shoppers. Check deals before you start spending to know when to take advantage of these short-term offers.
8. Get Social.
Follow and like your favorite brands and stores on Facebook, Instagram or Twitter to save even more with exclusive social media discounts. Many retailers give back to their loyal customers who follow or like them on social platforms with special promotions, early access to new items, and giveaways.
9. Shop Local.
Sandwiched between Black Friday and Cyber Monday is Small Business Saturday, which is observed the Saturday after Thanksgiving each year. This day is held to celebrate and support your local business community, but can also offer you another way to save. If you get to know your local small business community and attend in-person events they host, you can gain access to special promotions while shopping more unique gifts. By building a relationship with owners and managers, you may be able to negotiate prices, ask for a price match for similar items or take advantage of other discounts they may offer.
10. Plan ahead for next year.
Holiday shopping is something we can all plan for. If you haven't already, set up a holiday savings account to help budget your holiday shopping throughout the year. Dedicating even $20 or $100 per month can really add up and help you be prepared to take on the holiday season each year.