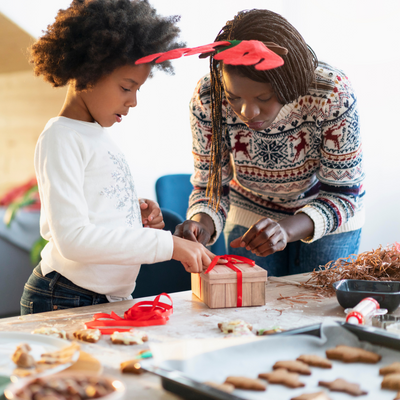 6 DIY Holiday Gift Ideas on a Budget
11.25.2022
Frontwave Credit Union
The holidays are a great time of year, bringing family and friends together to create memories and celebrate tradition. On the flipside, the holiday season can also bring a certain amount of financial stress for many people. According to the
National Retail Federation
, shoppers, on average, expect to spend about $830 on gifts and other holiday items such as food and decorations this year.
As you map out your shopping list this season, keep in mind the most cherished gifts are thoughtful ones; those that show how well you know that person. If you're working with a tight budget or want to try your hand at more creative gift-giving, here are a few DIY ideas to show off your skills and stay within your budget without going into debt.
Budget-Friendly DIY Gift Ideas
Bubble Bath Gift Basket – Create your own bubble bath gift box using a small box or basket with scented bath salts, bath bombs, chocolate, candles, a bath pillow…whatever you think might be perfect for the person it's intended for. You can buy many of these items in bulk and break them up into multiple gifts and customize them for each person. If you're feeling up for a more hands-on DIY project, consider making your own candles, body scrubs or bath bombs.
Mason Jar Gifts - Pinterest, Instagram, and YouTube have hundreds of unique mason jar ideas, from baked goods and soups, to candles and herb gardens. Mason jars are a great option because they're so versatile, you can come up with a trendy yet creative gift that's perfect for everyone.
Holiday ornaments and decorations – You can cross stitch, carve, paint, or Sculpey personalized ornaments for anyone on your shopping list, or create holiday decorations for the home. To give your décor an extra personal touch, try adding fun photos with you and the recipient or even family photos.
Coasters – Coasters can be made out of tile, wood, or even crocheted for a fun and easy gift. You can add quotes from the recipient's favorite authors, original photography, regional maps, or even Scrabble tiles to spell out special messages.
Flavored Homemade Extracts – Think flavored extracts such as vanilla, almond, or peppermint are so expensive at the store because they're difficult or time-consuming to make? Think again. The truth is, it's easy even for beginners. They make great homemade gifts for baking and cooking enthusiasts that only require the right ingredients, a bottle and patience.
Give your time – Offer your talents and time as a gift, like giving a few guitar lessons, free babysitting or pet-sitting, cooking a week's worth of dinners, or planning a fun experience like a picnic or a movie night.
If you've never made gifts before, try it this year. You'll have more fun and less financial stress while creating new family traditions everyone can join in on.