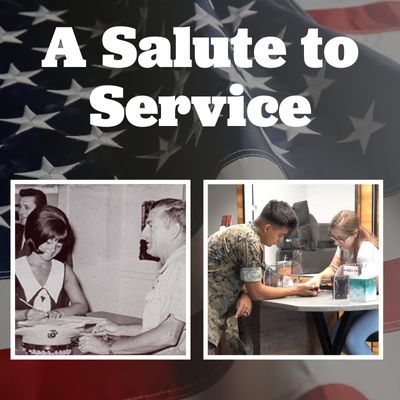 A Salute to Service: Celebrating 70 Years of Supporting Our Armed Forces
11.9.2022
Frontwave Credit Union
At Frontwave, we have a long history of serving our military men and women. Since 1952, we've been on the front lines of financial wellness, serving Marines, sailors and civilian employees in Southern California. While we've changed our name a few times and evolved from exclusively serving military personnel to serving everyone living or working in San Diego, Riverside and San Bernardino counties, our commitment to our military communities remains as strong as ever.

For 70 years, Frontwave Credit Union has been proud to serve our armed forces and is incredibly grateful for their service to this great nation. We understand our military personnel fight hard for all of us so we can have a better life and a better tomorrow. So we're here to fight for them and make their financial dreams come true.

If you're serving or have served our country, we salute you! Not just with words, but with real action. Our everyday commitment to our service men and women is at the forefront of our leadership, demonstrated through the services and resources we offer our Marines, Sailors and their families, and through the long-lasting impact we make by partnering with organizations who give back to the military community.
Our President/CEO
As a retired Marine Sergeant Major, our President/CEO Bill Birnie knows all too well the sacrifices Marines and their families endure when they answer the call and go into harm's way. Bill knows military life is like no other and understands the challenges as well as the dreams. His 25 years of service with the Marine Corps gave Bill the opportunity to travel the world and meet great leaders who helped form his leadership skills to drive Frontwave forward.

Bill's unique blend of experience and expertise gives him an invaluable perspective to lead Frontwave and build a better tomorrow for all of our Members. Under his leadership, Frontwave has been honored with the Department of the Navy's Distinguished Credit Union of the Year Award six times in the past eight years and has been named San Diego's Best Credit Union and Morongo Basin's Best Bank three years running.
Dedicated to the Financial Success of our Military through Education
For 70 years, Frontwave has been a leading force in the credit union industry and embodies the credit union philosophy of "people helping people." We show that every day in how we support our communities and through our commitment to providing best-in-class service to our Members.

To help the thousands of new Marines who come to Frontwave every year through the Recruit Direct Deposit program at Marine Corps Depot – San Diego, we established a dedicated Military Relations Team. Comprised solely of experienced Marines, their goal is simple – to provide our military Members and their families with the financial education and tools they need to achieve financial success both in and out of the military.

Every member of our Military Relations Team is also certified financial counselors who are out in the field every day helping Marines and their families learn, grow and reach their goals. Whether they are just starting out in boot camp or in their second stage of life after the military, this team helps Marines during all phases of service by teaching how they can better manage their money and plan for their futures – from getting married, to buying their first home, to managing finances (even during deployment) and one day, retiring.
Giving Back to the Military Community
While we're always focused on providing our Members great service, we also have a mission that is so much bigger - to be a force for good in our communities. In 2021 alone, we supported over 180 military and community organizations through sponsorships, events and volunteerism.
We're not done yet! Follow @frontwavecu on social media for updates regarding our ongoing community outreach.
Our Patriotic Roots Run Deep
Given the service our armed forces provide for our country, we think the least we can do to repay them is by showing that gratitude every day in how we serve them and supporting the communities who support them. We don't just give our Members a place to bank, we fight for our Members and help make their financial dreams come true.

To learn more about Frontwave's military services and resources, review upcoming financial education workshops, or to get in touch with our Military Relations Team, visit our Military Resources page.