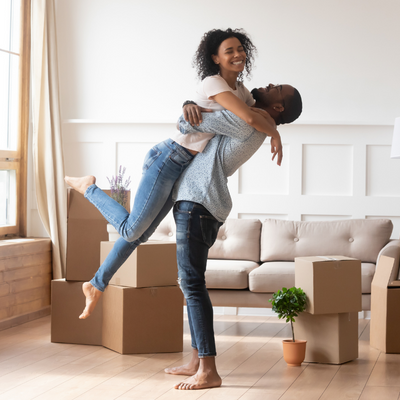 Buying a Home without a Down Payment
1.24.2023
Frontwave Credit Union
The journey to homeownership is an exciting one, but it can also be complicated, especially in California. Last year, the
California housing market
reached its most unaffordable levels in nearly 15 years, with sky-high home prices, rising interest rates and housing inventory remaining low. With the average home now costing over $750,000 in Southern California, as you begin house hunting, it's natural for your first question to be, "how much mortgage can I afford?"
Typically, a major factor in answering this question is determining how much you'll need for a down payment, often the biggest barrier in making the transition to homeownership. But the good news is, if you're entering the California housing market as a first-time homebuyer, you may not need to save for years to come up with over $150,000 for the standard 20% down payment. There are many low to no down payment options available to help you get your piece of the American Dream.


California First-Time Home Buyer Assistance Programs
The CalHFA offers the leading
first-time home buyer assistance programs
in California, which are popular with homebuyers who have less than perfect credit scores. These government-backed loans are typically known for having less stringent requirements, with some programs offering mortgages to homebuyers with credit scores as low as 640 and debt-to-income ratios as high as 50%.
While CalHFA loans may be easier to qualify for than conventional loans, they also carry some hidden fees and more upfront costs. Plus, these loans still typically require at least 3.5% down and when you keep in mind the average cost for a home in Southern California, that comes out to over $25,000! Even a small down payment keeps the upfront costs relatively high and possibly out of reach for some would-be homeowners.
If you need help with a down payment, CalHFA offers
down payment assistance programs
, which are essentially a second or subordinate loan, adding another loan on top of your mortgage to manage. In addition, you'll have to pay FHA mortgage insurance since you're putting less than 20% down. This insurance is the same cost regardless of your credit score, making it typically higher than financing a loan with good credit. Plus, FHA mortgage insurance lasts the life of the loan if you put less than 10% down, and the only way to have the insurance removed is to refinance to a conventional loan. Down the road, refinancing may not be easy or affordable, keeping you stuck with this extra fee every month.
The bottom line is that while CalHFA down payment assistance programs may look attractive on the surface, they may not be your best option in the long run.
No Down Payment Mortgage
If the CalHFA down payment assistance programs aren't for you, a great alternative is Frontwave's
No Down Payment Mortgage
.
Our no down payment program requires ZERO down payment, greatly reducing the upfront costs of your first home purchase. Unlike the CalHFA program, you'll just have one loan to manage instead of two. Plus, you won't have to worry about refinancing down the road to get rid of your mortgage insurance. Once your equity reaches 22% of your home's purchase price, your private mortgage insurance will be automatically removed.
In addition to 100% home financing, our
No Down Payment Mortgage
also offers other great perks like:
Gift funds allowed
Option for seller to pay closing costs up to 3%
No income limits
Available for first-time homeowners and repeat buyers*
Loan amounts up to $1,089,300**
Local processing, underwriting, closing and funding
As you figure out the best plan for financing your first home, compare loan options available to you based on your credit score and down payment ability. Keep in mind there are many paths to homeownership, with and without a down payment.
Ready to get started?
At Frontwave Credit Union, we're all about making your financial dreams come true, including the dream of home ownership. If you're planning to buy a home in a few months or a few years, a great first step is getting a better idea of what you'll need to reach your goals. Our friendly Southern California Home Loan Consultants are standing by to guide you, answer questions and take the stress out of the home buying process. Give them a call today at 760.631.8717 to find the best option for your family and your budget!
* Property must be owner-occupied.
** Loan limits are based on county FHFA limits and may vary based on the area the property is located.