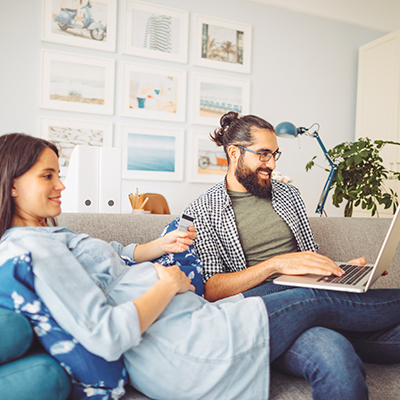 How to Build Wealth and Step up Your Savings Game
3.28.2023
Frontwave Credit Union
Saving isn't always easy. From managing your day-to-day finances to shelling out money for unexpected medical bills, a broken water heater, or even a loss of income, it may seem there's never enough left to put towards your future.
If you feel you're not saving enough, you're not alone. According to a
recent study
, 56% of Americans have less than $1,000 set aside in their emergency fund. The great news is that you can make small changes to your saving strategy, making your money work for you with the power of compound interest.
Have you ever heard "the more you save, the more you earn?" That old adage is the principle behind compound interest. Simply put, compound interest is interest you earn on interest. It has the power to grow your money exponentially even if you don't add another penny to your initial investment.
If you're like many Americans who have the bulk of your money tucked away in an account earning a dividend less than 1% annually, you're missing out on some easy, low to no risk tools to put your money to work. Here are a few quick tips to help grow the money you have and reach your saving goals.


Certificate Accounts
If you're saving for a big purchase like a vacation or a home,
certificates
often offer higher dividend rates than traditional savings accounts. By agreeing to put your money aside for the term of the investment, you'll receive a guaranteed return.
Here at Frontwave, we offer industry-leading rates on
Share Certificates
and
Saver Certificates
. Both offer flexible terms from 6 months to 5 years to help you work towards your short-term and long-term savings goals. The key differences between these two types of accounts are:
Share Certificates require a minimum deposit of $1,000 whereas our Saver Certificates only require a $100 deposit to get started.
Saver Certificates require an automatic monthly contribution between $10 and $500 for the term of the investment. This is a great way to get in the habit of saving.
Monthly Contributions to Your Retirement Account
There are many ways to
fund your retirement
from 401(k)s and 403(b)s to IRAs and TSPs. And making regular contributions as opposed to investing lump sums can help set you up for success.
What's more, this investment strategy allows you to take full advantage of compounded interest, helping grow your money over time. Consistent contributions also help reduce the impact of dips and swings in the stock market and over time, cut the average cost of your investment.*


Plan for Your Future
Whether you're just getting started or want to step up your savings game, our
free financial calculators
will help you map out how much you need to save to take that luxury vacation, get out of debt, or finance your dream home. If you need help planning for your financial future, the Frontwave crew's got your back. Give us a buzz at
760.631.8700
or swing by a
local branch
today.
* The information included in this article is for educational purposes and is not intended to be taken as investment advice. Diversification and asset allocation do not ensure a profit or guarantee against loss. Investing involves risk, including risk of loss. Investments are not insured, and past performance is no guarantee of future results. Frontwave is not providing recommendation or endorsement of any specific investment or strategy.