Ugly Sweaters Raise Money for Casa de Amparo
January 18, 2018
Oceanside, CA — Pacific Marine Credit Union (PMCU) staff raised $500 for Casa de Amparo through the annual PMCU Holiday Ugly Sweater Contest. PMCU staff put on their ugliest holiday sweaters on December 15th to pose for photos with their departments/branch. The photos were then posted on PMCU's Facebook page along with each group's charity of choice. Ryan in our Operations team received the most votes/likes on Facebook winning his charity, Casa de Amparo, $500!
Ryan Dunn, Operations Analyst and winner of the ugly sweater contest stated, "Having had friends and family affected by domestic violence and child abuse, Casa de Amparo was a clear choice for me when selecting a charity to contribute to. Dedicating your life's work to helping people who arguably need it the most, make this a group of very special people. Casa de Amparo is clearly a stand-out organization." To see all the participants' photos and get involved next year, visit PMCU's Facebook Page at facebook.com/PacificMarineCU. "It is one of the many fun ways throughout the year that we enjoy supporting local non-profits."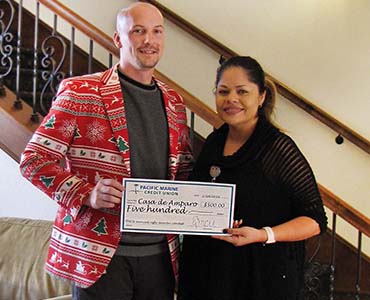 Pacific Marine Credit Union presents a donation check of $500 to the Casa de Amparo, the winning charity of their social media ugly sweater contest.
About Casa de Amparo
Casa de Amparo's mission is to support those affected by and at risk of child abuse and neglect, through a range of programs and services that promote healing, growth and healthy relationships. Today, Casa de Amparo is recognized as a major force in the treatment and prevention of child abuse and neglect in San Diego County. Casa de Amparo continues to expand by serving each Casa Kid's individual and changing needs through all their stages of life. Casa de Amparo is a non-profit organization offering six programs serving all of San Diego County, with locations in Oceanside and San Marcos.
About Pacific Marine Credit Union
Since 1952, PMCU has been making a difference: helping people with their financial needs and giving back to the local communities. PMCU is owned and governed by its members, operating not-for-profit, but for service. This allows the revenue generated by its services to be given back in the form of lower interest rates on loans, reduced fees, attractive earnings on savings and investments, and around-the-clock access to the latest electronic services. PMCU is open to everyone who lives or works in San Diego, Riverside and San Bernardino Counties. Pacific Marine Credit Union is federally insured by the National Credit Union Administration and is an Equal Housing Lender. Visit us at pmcu.com.