Frontwave Credit Union to Celebrate Grand Opening of New Wildomar Branch
June 14, 2019
Wildomar, CA — Frontwave Credit Union (Frontwave) is hosting a grand opening celebration at its new Wildomar branch, located in Wildomar Square, 36290 Hidden Springs Road, Suite A. The grand opening event will take place on Saturday, June 29th from 10 am to 4 pm.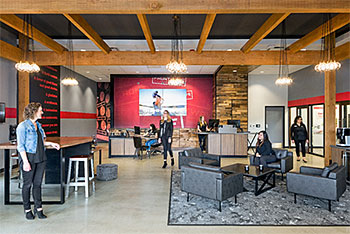 Interior of Frontwave Credit Union's Wildomar branch. The branch is open Monday through Friday from 9 am to 6 pm, and Saturday from 9 am to 4 pm.
The newly opened branch will be open to the public for a free financial checkup as well as family fun and festivities that include complimentary food and drink from Party Tacos, appearances from KGGI 99.1, family activities and opportunities to win prizes, including $250 Visa gift card, iWatch Series 4, Google Home Mini and an Amazon Echo Show.
The Wildomar branch features Frontwave's new state-of-the-art Branch 2.0 model, delivering a new type of member experience that combines personalized service, technology and branding elements with a focus on reinventing the member experience. The branch is equipped with an education bar featuring self-serve tablets, as well as a community space with a projection screen to host free financial workshops for the community.
"These are exciting times for our credit union. We are growing, innovating, transforming," said Bill Birnie, Frontwave President and CEO. "Our Wildomar branch is part of our commitment to serve families who live and work in Riverside County. We serve our members with authentic, consultative service, and we work hard to serve the needs of our members by helping them make their financial dreams come true."
The Wildomar branch is Frontwave's third location in Riverside County, along with two Temecula locations on Winchester Road and Temecula Parkway. The Wildomar branch is located at 36290 Hidden Springs Road and open Monday through Friday 9 am to 6 pm and Saturday 9 am to 4 pm
About Frontwave Credit Union
Frontwave Credit Union is a member-owned not-for-profit financial institution serving San Diego, Riverside, and San Bernardino Counties. Frontwave Credit Union provides a portfolio of financial products and services including checking and savings accounts, auto loans, mortgage loans, credit cards, home equity loans, and financial planning. Forged in 1952 as Camp Pendleton Federal Credit Union in Oceanside, California, Frontwave has grown from 8 civil service employee members and $40 in assets to more than 88,000 members and more than $850 million in assets. Frontwave Credit Union is continuously recognized as a best place to work in Southern California, and has won the Peter Barron Stark Award for Workplace Excellence six times in 2018, 2016, 2014, 2010, 2008, and 2006. To learn more, visit frontwavecu.com.