Frontwave President/CEO Bill Birnie Named One of San Diego's Most Influential Leaders
December 5, 2021
Oceanside, CA — Frontwave Credit Union is proud to announce President/CEO Bill Birnie has been named to the San Diego Business Journal's SD500, an annual list of the most influential leaders in San Diego.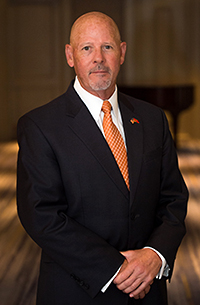 Bill Birnie, Frontwave President/CEO
From civic and lifestyle champions, to pioneers in finance, technology, and life sciences, the SD500 are billed as the human capital powering San Diego County's prosperity. They not only contribute to the region's economic success, but also to improving the community as a whole.
Birnie was nominated for his more than 30 years of work championing the credit union movement, as well as his service to local and military communities through the Defense Credit Union Council, Armed Forces Financial Network, Oceanside Chamber of Commerce, Camp Pendleton Historical Society and Moonlight Cultural Foundation.
"It's a true honor to be named to the SD500 alongside business icons like Irwin Jacobs, the co-founder of Qualcomm, and Nobel Prize-winning scientist Dr. Ardem Patapoutian of the Scripps Research Institute," said Birnie. "Credit unions are built on the philosophy of 'People Helping People,' and being included among these great local leaders is a testament to the fact that the work we do every day makes a real difference in people's lives."
About Frontwave Credit Union
Frontwave Credit Union is a member-owned not-for-profit financial institution serving San Diego, Riverside, and San Bernardino Counties. Frontwave Credit Union provides a portfolio of financial products and services including checking and savings accounts, auto loans, mortgage loans, credit cards, home equity loans, and financial planning. Forged in 1952 as Camp Pendleton Federal Credit Union in Oceanside, California, Frontwave has grown from 8 civil service employee members and $40 in assets to over 115,000 members and nearly $1.2 billion in assets. Frontwave Credit Union has been awarded Department of the Navy's 2020 Best Credit Union of the Year, voted San Diego's Best Credit Union in the 2020 and 2021 San Diego Reader "Best Of" Readers Poll, and is continuously recognized as a best place to work in Southern California, winning the Peter Barron Stark Award for Workplace Excellence again in 2020.