Frontwave Credit Union Waives Pet Adoption Fees, Donates $4,000 to San Diego Humane Society
July 21, 2022
Oceanside, CA — Frontwave Credit Union continued its 70th Anniversary Acts of Kindness campaign on Saturday, July 16, by paying for all pet adoption fees at three San Diego Humane Society locations in North County San Diego. Frontwave donated a total of $4,000 to the San Diego Humane Society, supporting the adoption of 50 pets, including dogs, kittens, and a fowl, by local families.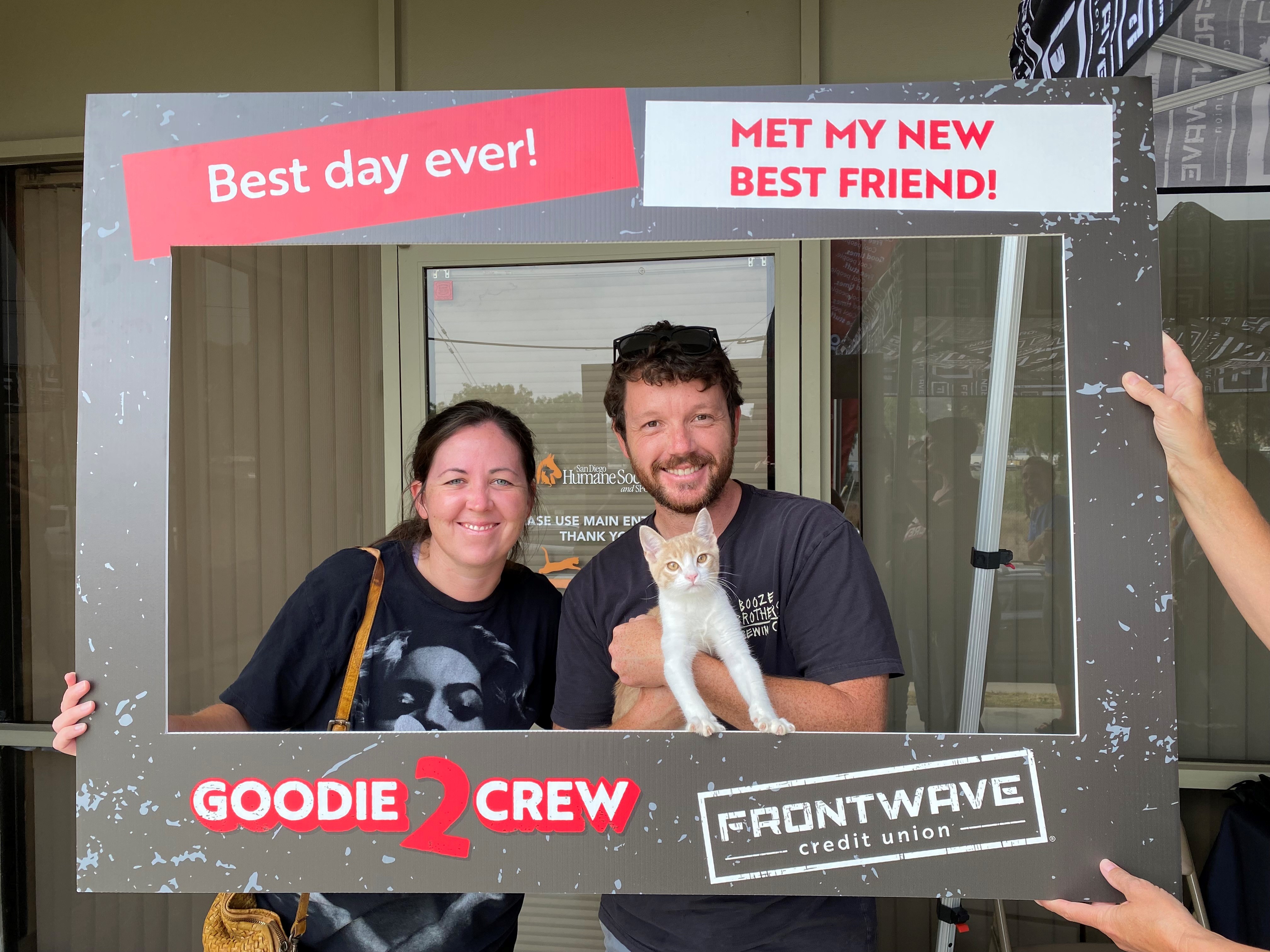 "We are so grateful for the generous support from Frontwave Credit Union, especially at a time when our shelters are so busy," said SVP and Chief Philanthropy & Communications Officer Brian Daugherty. "Each animal adopted creates space in the shelter for other animals in need and during this promotion we found 50 pets new homes! We are thrilled that so many pets from our Oceanside and Escondido campuses were adopted!"

The Frontwave Goodie2Crew was on-site at the Oceanside and Escondido campuses during the event, helping spread the word about the waived adoption fees and Frontwave's mission to be a positive force in the communities it serves.

"When we heard the San Diego Humane Society was running low on space, we were eager to pitch in and help animals find their forever homes, while bringing new families together," says Bill Birnie, President/CEO of Frontwave Credit Union. "We take the credit union philosophy of 'people helping people' to heart, and there's no better way to celebrate our 70th anniversary than by giving back to our local communities who have helped make us great."

To view Frontwave's impact with the adoption of 50 pets at the San Diego Humane Society, visit @frontwavecu on social media. To learn more about Frontwave Credit Union's philosophy and mission within their local communities, visit frontwavecu.com.
About Frontwave Credit Union
Frontwave Credit Union is a member-owned not-for-profit financial institution serving San Diego, Riverside, and San Bernardino Counties. Frontwave Credit Union provides a portfolio of financial products and services including checking and savings accounts, auto loans, mortgage loans, credit cards, home equity loans, and financial planning. Forged in 1952 as Camp Pendleton Federal Credit Union in Oceanside, California, Frontwave has grown from 8 civil service employee members and $40 in assets to over 117,000 members and $1.2 billion in assets. Frontwave Credit Union has been named San Diego's Best Credit Union and Best Bank in the Morongo Basin two years running, has been honored with the Department of the Navy's Distinguished Credit Union of the Year Award five times in the last seven years, and is continuously recognized as a best place to work. Frontwave is a nine-time recipient of the Peter Barron Stark Award for Workplace Excellence, most recently in 2021. To learn more, visit frontwavecu.com.