Shilpa Edlabadkar Promoted to Senior VP/Chief Financial Officer at Frontwave Credit Union
January 26, 2022
Oceanside, CA — Frontwave Credit Union is pleased to announce the appointment of Shilpa Edlabadkar to serve as its Senior Vice President/Chief Financial Officer.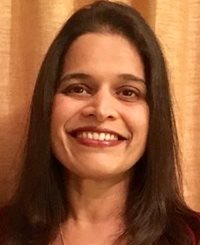 Shilpa Edlabadkar, Senior VP/Chief Financial Officer
"This is a well-deserved promotion for Shilpa, who joined the Frontwave team in 2018 as our Director of Finance and Accounting," said Bill Birnie, President and CEO of Frontwave. "Shilpa brings over 20 years of progressive experience leading and managing large teams in all aspects of corporate accounting and reporting in the financial services industry. Her experience, drive and leadership is a tremendous asset to Frontwave Credit Union."
Prior to joining Frontwave, Edlabadkar served as the Assistant Controller of Revenue Accounting for LPL Financial, and held a series of accounting and finance positions of increasing responsibility at Capital One over her 15-year tenure with the organization. She holds a Masters of Business Administration in Finance from Virginia Commonwealth University, as well as a CPA Certification, and is a Chartered Accountant.
About Frontwave Credit Union
Frontwave Credit Union is a member-owned not-for-profit financial institution serving San Diego, Riverside, and San Bernardino Counties. Frontwave Credit Union provides a portfolio of financial products and services including checking and savings accounts, auto loans, mortgage loans, credit cards, home equity loans, and financial planning. Forged in 1952 as Camp Pendleton Federal Credit Union in Oceanside, California, Frontwave has grown from 8 civil service employee members and $40 in assets to over 115,000 members and nearly $1.2 billion in assets. Frontwave Credit Union has been awarded Department of the Navy's 2020 Best Credit Union of the Year, voted San Diego's Best Credit Union in the 2020 and 2021 San Diego Reader "Best Of" Readers Poll, and is continuously recognized as a best place to work in Southern California, winning the Peter Barron Stark Award for Workplace Excellence again in 2021.