Frontwave Credit Union Welcomes Dennis Kingery as New Chief Financial Officer
June 6, 2023
Oceanside, CA — Frontwave Credit Union is pleased to announce the appointment of Dennis Kingery to serve as its new Chief Financial Officer.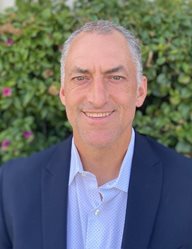 Dennis Kingery, Frontwave CFO
"After an extensive search to find the right candidate for our CFO, I'm thrilled to bring Dennis on board as a strong addition to our executive team," said Bill Birnie, President and CEO of Frontwave Credit Union. "Frontwave has experienced tremendous growth over the past few years alone and Dennis's extensive leadership in financial strategy will continue driving the credit union to new heights."

As a certified public accountant with over 20 years of experience in the credit union industry, Mr. Kingery will be responsible for leading Frontwave's financial strategy, providing financial analysis, and overseeing all financial operations for the credit union.

Mr. Kingery holds a master's degree in international development from the University of Denver Josef Korbel School of International Studies, as well as a bachelor's degree in accounting and business finance from McPherson College.

Prior to joining Frontwave, Mr. Kingery most recently served as VP of Finance at San Diego Workforce Partnership, having previously served as the Executive Vice President, Operations and Chief Sales & Services Officer at San Diego County Credit Union, and Senior Director of Finance at Westerra Credit Union.

About Frontwave Credit Union
Frontwave Credit Union is a member-owned not-for-profit financial institution serving San Diego, Riverside, and San Bernardino Counties. Frontwave Credit Union provides a portfolio of financial products and services including checking and savings accounts, auto loans, mortgage loans, credit cards, home equity loans, and financial planning. Forged in 1952 as Camp Pendleton Federal Credit Union in Oceanside, California, Frontwave has grown from 8 civil service employee members and $40 in assets to over 123,000 members and $1.4 billion in assets. Frontwave Credit Union has been named San Diego's Best Credit Union and Morongo Basin's Best Bank three years running, has been honored with the Department of the Navy's Distinguished Credit Union of the Year Award six times in the last eight years, and is continuously recognized as a best place to work. Frontwave is a ten-time recipient of the Peter Barron Stark Award for Workplace Excellence, most recently in 2022. To learn more, visit frontwavecu.com.