I ask that we all take a moment to recognize, reflect upon and revere those courageous young Marines that we so tragically lost in Afghanistan. As a retired Marine Sergeant Major, I know all too well the sacrifices Marines and their families endure when they answer the call and go into harm's way. I am in awe of their courage, their commitment and their selflessness. For nearly 70 years, Frontwave Credit Union has been proud to serve these amazing Americans and we are incredibly grateful for their service to this great nation.
We will forever honor our fallen brothers and sisters.
As you go about your busy day, please, take a moment and thank a veteran for their service.
As a token of our appreciation for their service and sacrifice, Frontwave Credit Union has made a donation to the Navy-Marine Corps Relief Society.
May you be blessed with smooth seas and a following wind.
Bill Birnie
President/CEO
Frontwave Credit Union
Sergeant Major, USMC (Ret)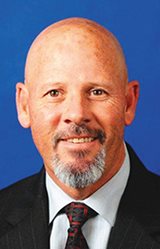 Bill Birnie, Frontwave
Credit Union
President/CEO