You did it. Way to go.
You've logged off Online Banking. We hope you enjoyed the experience. The best part is, you can jump back into it anytime. Have some time on your hands? Take a few minutes to check out our checking and savings accounts, credit cards and loans. Then you can go right back to Online Banking to monitor your account. It's circle-of-life stuff, you know?
Or, take a minute to check out some exciting digital banking news!
You spoke. We listened.
Here at Frontwave, we're always looking to improve and better serve our Members. And, when it comes to your digital banking experience, we heard you loud and clear. The new Frontwave app will have an enhanced look and feel with new navigation options, making it easier to access your favorite functions. Our online banking experience will also get a navigation upgrade, so no matter how you bank, it's easy to find what you need in a flash.
Here's what you can expect from the new Frontwave app:
Modern Look and Feel - Enjoy a new, modern view of your accounts that makes navigating much easier. Simply swipe the account cards to view quick action buttons that take you to your desired task, such as making mobile deposit directly to that account.
Simplified Navigation - Check out the shortcuts bar to access the most popular actions. Or, tap "more" in the mobile menu to find all the other tools you need. New dropdown menus make it easier to get where you need to go with less scrolling.
New Security Options - New multifactor authentication options allow you to use Google Authenticator, Duo Mobile or other authentication apps to help further protect your account from fraud.
Check out our video for a sneak peek of the new features in action!
Here's what you can expect in online banking:
When you login to the upgraded online banking experience through our website, you'll enjoy:
Simplified navigation - With a new header menu that mirrors the updated mobile experience.
Easy access to favorite functions - With dropdown menus that make it easy to quickly get where you need to go.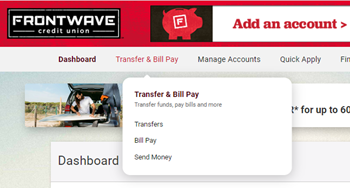 Getting excited? So are we!
Stay tuned for more updates and details as we get closer to the big day.